Calgary's Family Law Specialists
WK Family Lawyers LLP is a top rated Calgary Family Law firm. We specialize exclusively in family law and provide exceptional legal counsel and support to families during a difficult transition period. We also have advanced skills in alternative dispute resolution including mediation and arbitration. 
With over 40 years of collective experience in the field, we can help resolve issues you will undoubtedly encounter during divorce or separation. We also specialize in negotiating and drafting agreements to govern your relationship during marriage, cohabitation, or in the event of a later separation.
We are the team you want on your side, whether in a sensitive mediation session or in complex litigation. Our lawyers are highly respected for their depth of experience in the field of family law and for their understanding of the legal nuances that can have important consequences for your end result.
Driven by a genuine commitment to each client, we provide exceptional service and attention to detail. You will benefit from our diverse team of dedicated legal professionals working together to achieve successful results while focusing on your family's well-being and the best possible outcome. First and foremost, we pride ourselves as problem solvers.
Learn more about our team
Browse through our lawyer profiles to find the family lawyer with the skills and experience that are best suited to your unique situation or contact us for assistance in selecting the right lawyer for you.
Our Mission
WK Family Lawyers LLP strives to provide exceptional service and quality product to our family law clients.
We provide these services within a positive and supportive environment emphasizing mutual respect, cooperation, and team work.
We constantly strive to maintain our professionalism through quality work, ethics, creative problem solving, leadership and practical approaches to our work.
Your story is unique
We understand that each client's story is unique and no two files are the same. During your initial consult, we start by getting an in-depth understanding of your situation. You know your family best and that is why we listen closely to your circumstances and needs.
During our initial meeting, we explain to you the law as it relates to your issues as well as provide you with process options to resolve these in an efficient and reasonable manner which aims to provide your family with the best results. Depending on your situation, we may recommend mediation, alternate dispute resolution, arbitration, or if all else fails, litigation. Sometimes, more than one of these process options may be required to achieve what you are looking for.
At the end of the day, we want what you want—the best solution for your family with the least amount of stress.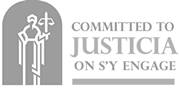 Learn more about our services:
It is important to remember that the beginning can be anywhere along the way. Your story will have many chapters — maybe volumes — each a chance to begin.
Serving Bow Valley Residents
Our lawyers also serve residents in Canmore and Banff including representation at Canmore Provincial Family Court.
WK Family Lawyers win Access to Justice Award
The lawyers of WK Family Law are outstanding supporters of families affiliated with Discovery House Family Violence Prevention Society. Discovery House is devoted to the safety and well-being of women and children fleeing domestic abuse.
The partnership between Discovery House and WK resulted in monthly on-site legal clinics ensuring that Discovery House clientele have the best possible access to legal information.
In addition to the clinics, WK provided on-site legal info clinics for staff at Discovery House and was involved in a pro bono group mentorship program linking University of Calgary students with Discovery House.
WK was involved with this project from 2013 to 2015. It involves lawyers, juniors and students serving those who need family law help the most. With empathy and assistance, they make the pathway easier for clients to move forward with their personal healing journey.
Clients, often facing the most difficult challenges of their lives, feel supported and cared for, and many are referred to Legal Aid Alberta for further assistance and representation.
Creating access to justice and legal guidance is an invaluable service to the clients of Discovery House.
Presented by Legal Aid Alberta (2015)